Welcome to Tucson
Tucson, Arizona's second-largest city is a growing metropolis of one million that keeps getting better and better. The city's geography is a postcard image of cactus forests, rolling hills and rugged mountains. National and state parks and forests ring the city. Tucson lies in the borderland, a region that blends the cultures of the United States and Mexico, and has a long history of settlement by ancient Native American peoples, Spanish explorers and Anglo frontiersmen. The weather is mild nearly all the time, just right for all kinds of outdoor activities.
The city was founded formally in 1775; about the time the nation's forefathers were signing the Declaration of Independence. Locally, the city is still called the Old Pueblo for the adobe fortress or "presidio" that marked its early borders. Over the past three centuries, Tucson has grown from a Native American farming community to Spanish outpost to dusty frontier town to bustling territorial railroad hub, to the mature Southwestern metropolis it is today.
Tucson is 2,389 feet above sea level and covers nearly 500 square miles. The landscape mixes flowering desert, rolling hills, winding dry riverbeds, craggy canyons and pine-topped peaks-all beneath an expansive clear, blue sky. The microclimates you encounter on the 60-minute drive from downtown Tucson to the top of nearby Mt. Lemmon is much like what you'd see on a trip from Mexico to Canada.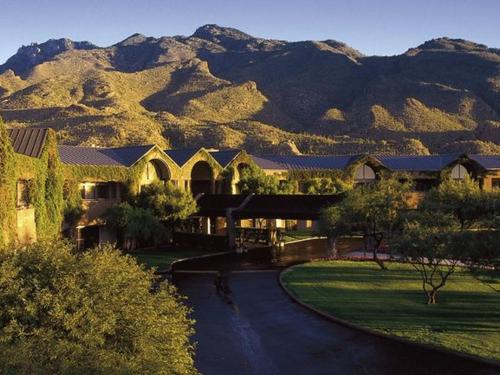 Our skyline is our mountain ranges; five surround us.
The sun rises over the Rincon Mountains on the east side.
Our legendary sunsets silhouette the Tucson Mountains on the west.
Flanking the north/northeast are the prominent Santa Catalinas.
Rising to the south and southeast are the Santa Ritas.
The Tortolitas shelter the northwest.
Sentinel Peak (also called "A" Mountain) is at the western fringe of the downtown historic district. The base of this peak is the site of a major archaeological dig for remnants of Tucson's first settlement, about 3,000 years ago.
Tucson's variety of scenic attractions offers something for everyone. From historic to high-tech, from ecological to military, with hands on learning and over-the-top fun in between, Tucson has what's natural and authentic: Spanish missions, Old Western towns, major astronomical observatories, regional gardens and zoos, and research and education centers.